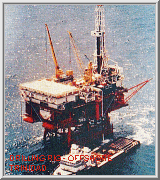 The economy of Trinidad and Tobago is the largest and most industrialised in the Caribbean.
It is also one of the most diversified, with substantial investments in petroleum, petrochemicals, natural gas, iron and steel and light manufacturing. There is also a long tradition of agriculture, going back to the sugar-cane and cocoa plantations of colonial times; while in terms of modern day growth industries, tourism is one which holds enormous potential.
Oil production and refining have constituted the most important sector of the local economy for more than 60 years, supplanting sugar and coca sometime in the 1920s. World-scale ammonia, methanol and urea plants are also significant players on the scene, operating out of the 800 hectare (2000-acre) Point Lisas Industrial Estate, on the island's west coast. Trinidad and Tobago is the second largest exporter of ammonia in the world today, as well as being an important contributed in the international methanol market.

A portion of Point Lisas has been designated a Free Zone, to facilitate investment. The Port servicing the industrial estate offers a sheltered deep-water harbour with a 12m (40-ft) draught and berthing facilities to accommodate both solid and liquid cargoes.
A sophisticated financial system and a full range of banking services also facilitate business in Trinidad and Tobago. The country's telecommunications system is among the most modern in the world. Some of the world's major airlines provide direct service from North America, South America, Europe and the Caribbean; the main port in Port of Spain is equipped to handle all manner of commercial cargo and is serviced by a number of major shipping lines.
Several leading multinational corporations - Nestle, Unilever, Johnson & Johnson - have located their regional operations in the country. The Trinidad and Tobago government offers numerous incentives, from tax exemptions to duty-free concessions, to encourage foreign investment in the country. The recent liberalization of the TT dollar, which now floats freely in international currency markets, was also implemented with the aim of attracting foreign investors.