In Tobago, there is a beach to suit every fancy. Calm seas or white capped breakers, palm trees or sea grapes, intimate coves or long expanses - it's all there, somewhere.
Tobago's west coast offers some of the island's most popular bathing (and sunbathing) spots. Here, the blue Caribbean Sea washes gently against the fine white sand; the palm trees lean picturesquely, and sunset is a glorious event.
Store Bay, Pigeon Point and Mount Irvine Beach, are all within easy reach of Crown Point Airport. Indeed Store Bay is only a three-minute walk from the runway, and Pigeon Point is not much further. Both are lively spots, favourites of locals and tourists alike.
Further up the coast is Mount Irvine beach, fronting the lush Mount Irvine Hotel and golf course. Apart from its pleasant bathing, this is also the home of the Mount Irvine Wave, renowned amongst local and even international surfers.
---
| | |
| --- | --- |
| | PIGEON POINT |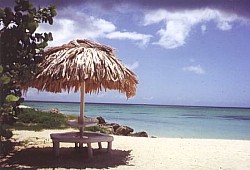 Pigeon Point is the prototypical Caribbean postcard: 1600 metres of dazzling white sand and crystalline water. A privately owned resort area, Pigeon Point offers bar, boutiques, restaurant and change-room facilities; there is a small admission fee.
---
| | |
| --- | --- |
| | STORE BAY |
Store Bay offers clear water, shallow caves ideal for sun shading, and a small reef with good snorkeling. Opposite the beach are public changing rooms and kiosks selling delectable local food. Glass bottomed boats leave regularly from both Store Bay and Pigeon Point, to visit the famous Buccoo Reef.