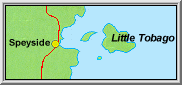 Little Tobago Island, which is also known as Bird of Paradise Island, is located about 3km (1 1/2 miles) off the coast of the village of Speyside. This small offshore island is one of the most important seabird sanctuaries in the Caribbean. The island (113 hectres in area), which is star-shaped and mountainous, is one of the most important sea-bird sanctuaries in the West Indies. More than 50 species of birds make the island their home, including Audubon's Shearwater, Brown Boobies, Laughing Gulls, Red-billed Tropic-birds, and a variety of terns. Of these, approximately 30 species nest on the island.
Little Tobago Island was a cotton plantation of some significance in the latter half of the 18th century, outdoing the rest of Tobago in its yield per acre. Sugar cane cultivation was attempted around the turn of the century when the cotton industry collapsed, but the island was eventually abandoned as it proved unsuitable.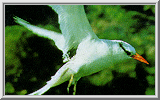 In 1909 the island was purchased by Sir William Ingram who introduced a colony of Birds of Paradise. These birds were imported from New Guinea where a thriving plume trade threatened them with extinction. The island was presented to the Government of Trinidad and Tobago in 1924 after Sir William's death by his heirs on the condition that it be maintained as a bird sanctuary.
A number of factors, including the hurricane of 1963, caused the Birds of Paradise to become extinct on the island. However, it remains a sanctuary for numerous other species.